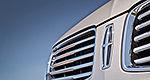 As you know, Lincoln is desperate to attract younger customers. Launching cool new products is obviously the way to go.
Matt VanDyke, global head of marketing, sales and service at Lincoln, told Edmunds that the company won't rule out anything, including a sporty Lincoln model developed on the all-new 2015 Ford Mustang platform and set to compete directly with the Audi A5, BMW 4 Series, and Infiniti Q60.
In other news, the Lincoln MKT full-size crossover will be redesigned, and a new full-size sedan will replace the MKS.