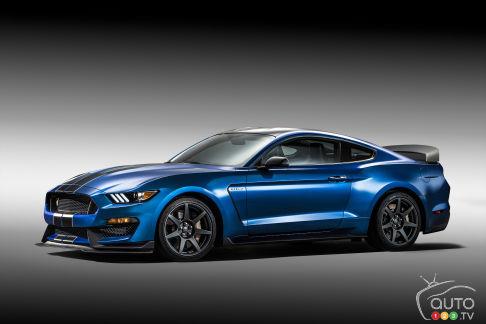 The all-new Ford Mustang Shelby GT350 and GT350R both achieve over 100 horsepower per litre thanks to a new 5.2L V8 engine that produces 526 horsepower and 429 lb-ft of torque. It's the most powerful naturally aspirated engine ever developed by the Blue Oval for a road-going vehicle, and the one with the highest redline at 8,250 rpm.
"The Shelby GT350 program began with a clear objective – create the most balanced, nimble and exhilarating production Mustang yet," said Jamal Hameedi, Ford Performance chief engineer. "Every change we made to this car was driven by the functional requirements of a powerful, responsive powerplant. The high-revving, naturally aspirated 5.2-litre flat-plane V8 delivers on every target we set – high horsepower, broad torque curve, aggressive throttle response and light weight."
A 6-speed Tremec TR-3160 manual transmission, specifically engineered for less mass and high-rpm application, is the only gearbox option with the 5.2L V8 engine of the Ford Mustang Shelby GT350 and Shelby GT350R.