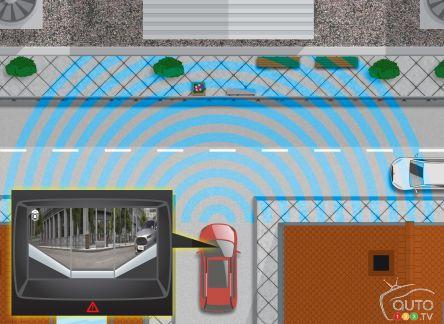 In Europe, Ford's all-new S-MAX and Galaxy seven-passenger crossovers will be available with a Front Split View Camera installed in the front grille that offers a 180-degree view of approaching traffic around corners.
No word about other models or markets, but if the technology makes a successful debut, it will hopefully spread throughout the lineup and across the globe.
At a blind intersection or when exiting a driveway, for instance, Ford's Front Split View Camera enables drivers to easily spot approaching vehicles, pedestrians or cyclists and thereby avoid collisions.
Data recorded by the European Road Safety Observatory SafetyNet project indicates that 19% of drivers involved in accidents at intersections experienced a restricted view.
"It's not just blind junctions that can be stressful, sometimes an overhanging tree, or bushes can be the problem," said Ronny Hause, engineer, Driver Assistance Electronic Systems, Ford of Europe. "Simply driving off driveways can be a challenge. Much like a rear-view camera, Front Split View Camera is one of those technologies that people will soon find indispensable."
Ford models including the all-new Galaxy and S-MAX already offer a rear-view camera with cross traffic alert. Further new driver assistance technologies available include an Intelligent Speed Limiter which helps drivers stay within legal speed limits and avoid fines, and Pre-Collision Assist with Pedestrian Detection which help drivers avoid some frontal collisions involving vehicles and pedestrians or at least reduce the severity of these impacts.