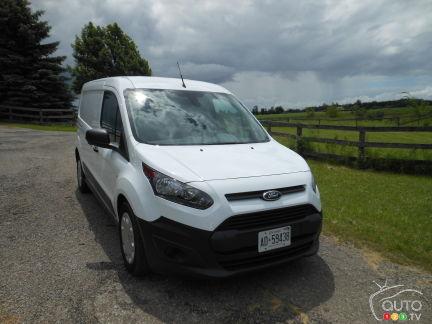 For some reason the wisdom of smaller-than-standard size vans evaded North America until mid-2009 when the first Transit Connect arrived. The vehicle immediately won North American Truck of the Year at the 2010 North American International Auto Show (NAIAS) and has proven itself popular with buyers ever since.
What is a Ford Transit Connect?
The Ford Transit Connect first appeared (in Europe) in 2002 when it replaced the rather aging Ford Escort range of car-based vans that had been around in various forms since the 1960s. Of course, that wasn't Ford's first foray into the small commercial van market: the Ford Thames 300E light panel van based on the Ford Anglia saloon of the time had been around since 1954.
2015 Ford Transit Connect Prices & Specs
Pricing starts at $25,754, for which you get a well appointed, easy to park/maneuver, stylish and fuel card friendly (9.9L/100km City; 6.9L/100km Hwy) load hauler (Max Payload = 780kg).
The Transit Connect (cargo van) has a GVW rating of 2,458kg, which is fair for its size. However, while towing an occasional light trailer might be fine in theory, I wouldn't personally recommend this vehicle for regular day-in-day-out towing purposes (it is after all, front-wheel drive).
Driving the 2015 Ford Transit Connect
The small van concept originally evolved from panel-sided station wagons and is therefore designed to drive like a car. The new Ford Transit Connect follows this format to the letter. It's as nimble as a Ford Focus and burns roughly the same amount of fuel. Naturally, it's not designed to haul heavy loads, but for local delivery services, electricians, plumbers, and probably 1,000+ other small businesses, it's almost perfection!
Power comes from a 1.6L EcoBoost® DOHC I-4 which is coupled to a 6-Speed SelectShift® Automatic Transmission. Sprightly is probably a better description than lively, but then this is a commercial vehicle we're talking of and not the latest Ford Mustang.
Its road manners are surprisingly good, and the comfort of its suspension will astound those who have ever spent an 8-hour shift behind the wheel of a regular panel van.
Inside & Out of the 2015 Ford Transit Connect
These small vans have certainly grown substantially since I first drove one (my first road-going vehicle was a Ford Escort Mk1 van). The rear compartment is large enough for drywall sheets and the large side loading door, together with full fold-back rear doors, make loading a breeze. One thing that did strike me strange though was the amount of headroom above the driver and passenger seats, and the total waste of space this involved. Unless you're an Abe Lincoln impersonator (complete with the obligatory top hat) or are reliving your youth with one of those outrageous early Jackson 5 perms I mistakenly thought cool back in the '70s, then this headroom is simply pointless. Now, Ford may well have options available for this area, but thinking back to all the items I carried when I was in the building trade (warm/rain jacket(s), hats, coveralls, work gloves, maps, lunchbox, flashlight, etc.), there really needs to be some sort of shelf/cubby box/cargo net up there as standard fitment.
Comparing the 2015 Ford Transit Connect
A starting price of $25,754 might sound a tad steep when compared to the bargain deals often found today on standard-sized panel vans. Lately, certain commercial vehicle manufacturers have been pricing down their regular vans in order to compete with the new influx of super-size vans now entering the market (MB Sprinter/Ram ProMaster/Ford Transit) and this has produced a glut of "traditional" vans.
I use this word because we are talking of rather long-in-the-tooth designs going up against a bang-up-to-date product here. Example: You could purchase a Dodge Ram Cargo (basically, a panel-sided Dodge Caravan) for slightly less. However, you won't get the same fuel economy and you will be driving a basic old-school minivan simply lacking in windows and seats. Now, to be fair, courier guys (over the years) often purchased minivans and removed the seats as these were cheap to buy and served the purpose, but now there's a vehicle specifically designed to do the job, so why would you bother?
Competitors? Only the Nissan NV200 poses a direct threat. However, there are rumours of Chrysler bringing the Fiat Doblò over here in the very near future. This will certainly create competition for Ford. Word is (from family and friends still in the building trade back in the U.K.) that the Blue Oval still owns the commercial vehicle market, so take from that what you will!
---